Last year, I reviewed the LEGO Mindstorms NXT 2.0 set and provided images and videos of the four included models in action. This year, courtesy of publisher No Starch Press, I have four more models to share with you that include more advanced robotics techniques than the original set.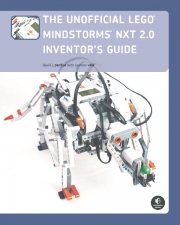 The Unofficial LEGO Mindstorms NXT 2.0 Inventor's Guide book by David J. Perdue (the author) and Laurens Valk (the robot builder) is an in-depth look at what the amateur roboticist can do with the LEGO Mindstorms NXT 2.0 set.
Specifications
Length: 310 pages
Cost: $29.95 MSRP
Additional contents: Extensive Table of Contents and Index. Four LEGO Mindstorms NXT 2.0 models.
Contents
The first three parts of the book — Introduction, Building, and Programming — were written by Mr. Perdue, while the fourth part of the book — Projects — was created by Mr. Valk.
Introduction
The Introduction covers much of the same information as what is included in the Mindstorms box, though Mr. Perdue does offer suggestions on how a LEGO builder can prepare herself and organize the pieces into various groupings using compartmentalized storages containers.
Building
Building is where the book gets interesting. Mr. Perdue shares more in-depth information on how the LEGO Mindstorms NXT 2.0 block, motors, and sensors work from an engineering and technology perspective than the information with the set does. Then, he delves into how to classify and name pieces in an attempt to standardize terminology among LEGO builders and to stave off misunderstanding when the pieces are discussed online or in person. Further, he demonstrates through quick example projects how to build sturdy structures and how to build with gears. (You can download a PDF version of Chapter 4 from Part II: "Understanding the LEGO Mindstorms NXT 2.0 pieces.")
Programming
Mr. Perdue then turns his attention to Programming using the NXT-G application. After covering the interface, fundamentals of the application, and the common palette (all of which is in the tutorials in the application), he delves into much more advanced programming techniques than were used in the LEGO Mindstorms NXT 2.0's original four models.
Data wires are used to transmit variables and information from one block to another; data blocks perform math or logic operations on data passed through the data wires; and variable blocks store and pass variable information for your programs. There are also conversion blocks that change numbers to text, blocks that concatenate text, and file access blocks that read and write to files to the NXT memory. There are even blocks for transmitting data to other NXT computers via Bluetooth connection; those blocks are useful when you have more than one NXT that you need to keep synchronized for a very large project requiring more than three motors and/or four sensors.
My Blocks is another feature covered in the programming section. My Blocks, which are like subroutines or modules in other programming languages, allow you to group programming blocks that serve a specific function together and then drop that customized block into any program without piecing together the component blocks each time.
Projects
After this extensive building and programming lesson, the fun part of the book begins: building robots. Mr. Valk steps in here to provide designs and steps to create the Inventor-Bot (his variation on the basic vehicle robot with a couple of optional add-ons), the Jeep (a front-wheel drive, four-wheeled vehicle), the Lizard (a four-legged, walking animal that is reminiscent of the AT-AT Walker from Star Wars), and the Printer (an actual mechanical ink and paper printer).
What I like
Layout: The book is divided into chapters that have a specific topic focus and flow from one to the next, building on each other.
Building instructions: Each model starts out with the theory behind key features of that model, which helps you understand robotics theory. This information is followed by a complete parts list, which makes the bot easier to build.
In-depth programming language coverage: Mr. Perdue does a good job of explaining the various features in the NXT programming language. Mr. Valk shows how the programming work is put to good use in the robot models.
What I don't like
Uneven tone in terms of reader skill level: The author seems to swing wildly from very basic to very detailed explanations. I got the impression that he didn't know if his audience's skill level was basic, advanced, or somewhere in between.
Geek gift bottom line
The Unofficial LEGO Mindstorms NXT 2.0 Inventor's Guide is a great companion book to the NXT 2.0 set and helps amateur roboticists learn more about both the NXT-G programming environment and robotics in general. This book, along with other books from No Starch Press, such as The LEGO Mindstorms NXT 2.0 Discovery Book, will help any child or adult learn how to build robots like an expert.
Geek gift score (out of 5)
Fun factor: *****
Geek factor: *****
Value: ****
Overall: *****
For more reviews of tech gadgets, gizmos, games, and books, download the PDF of TechRepublic's Geek Gift Guide 2011.